I recently had the pleasure of photographing a ballet dancer for my first time. I had envisioned how the shoot would go-- her stretching in a studio, surrounded by mirrored walls; leaps into the air; and a portrait in front of a spinning light rope. For the first time I can say the shoot went exactly as I had hoped. My subject, Princess (yes, that is her name), was the ideal voluntary victim.....SUBJECT!
Princess Mecca Romero, born in Harlem New York, began her dancing career at the tender age of three. She then began extensive training at Harlem School of the Arts, then moved on to the Eliot Feld's Ballet Tech, an NYC Public School for Dance. She later attended Professional Performing Arts School, a high school affiliated with the Alvin Ailey American Dance School, where she would make her City Center debut in "Memoria." In 2007, Princess graduated from the Professional Arts School and moved on to Cal Arts. While there, she was selected to represent the program at the London Contemporary Dance school on exchange. Now in California, Princess will soon be performing the works of Frit & Frat, and will be traveling throughout Canada to perform with Helios Dance Theatre. Needless to say, Princess was overqualified to perform the simple leaps and spins I requested of her. Fortunately, she was game all day.
I arrived at the undisclosed location early Sunday morning, as Princess was stretching at the barre. I slowly set up my excessive equipment in the studio, imagining how I was planning to use any umbrellas or softboxes while completely surrounded by mirrors. After going over what wardrobe she would wear, we began with some simple poses and positions. For my lighting in the studio, I set up one Alien Bee with a 60-inch silver umbrella off to camera-left. While there were windows to my back, I decided only to use the strobe as my light source. We shot briefly at the window, using only natural light. Knowing very little about ballet, I would spend the day demonstrating moves and positions for Princess to decipher. In case you were curious, jumping and slapping the bottoms of your feet together is not considered a respected ballet pose. However, it continues to be my signature move.
I got some images of Princess at the barre, a few of her with her pointe shoes, and some shots of reflections. On my way into the studio, I had noticed the enormous basketball gym adjacent to our location. I knew it would allow for some very different images than what we would get in the studio. Aside from the much larger working area, I would be able to close down my aperture, hit my subject with a strobe, and make the world around her go black. To be honest, once I saw the gymnasium, I was anxious to get in there and get to the leaping images I had envisioned.
Once we did move into the gymnasium, we decided Princess would get into her red outfit and lose the pointe shoes....for her own safety on the slick gymnasium floor. Wanting to get the most out of my key light, I opted for the bare strobe over the large umbrella. I placed a stool in the center of the gym floor as a marker of where all the action would take place. This was helpful because as she was leaping through the air, I did not want to be focusing on a moving target. Locking my focus on the floor beneath her somewhat guaranteed me an in-focus image. For the initial leaping images, I was using my Tamron 70-200 2.8. Though I had to back up nearly into the bathroom to use the 200, it allowed me to isolate the flying dancer, and not the entire gymnasium in the background. I was shooting at sync speed on my 5D Mark II (1/160th), doing all I could to freeze my subject. The first image shows Princess on the stool as I adjust the key light. I knew I would have to introduce a second light for a nice rim, separating her from the black hole behind her. Without the second light, her hair would vanish.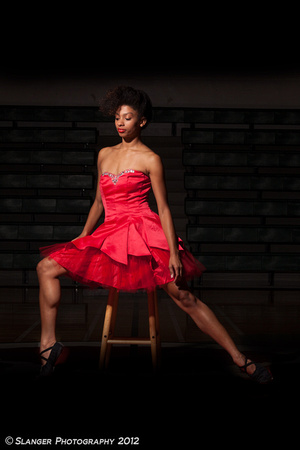 In our first aerial image, if you look to the right side of the frame, you just may be able to see the second strobe. It's round and white in appearance.
We then moved the rim light directly behind Princess to really isolate her from her environment.
For our next scenario, we moved to a miniscule equipment closet in order to remove all ambient light. My faithful assistant, Elizabeth, always willing to help out, was assigned the task of twirling a light rope behind our model. I must point out that is not nearly as simple as it sounds. The center of the spinning must be consistent, and directly behind the middle of our subject's head to achieve the desired effect. If anyone is seeking an up-and-coming lassoo artist, please let me know. So, for this scene, I was lighting Princess' visage with a beauty dish, doing all I could to confine the light in that small closet to light only her face. I will confess that because of the tight quarters, some light did reflect off the walls and ceiling, polluting the the scene to some extent. This required a small amount of work in post to remove said light pollution. Our settings were an 1/8th of a second at f/13. The long shutter speed is required to allow that spinning light in the background to buuuuuurn into the image. With a faster exposure (1/60th, 1/125th, etc.), the light rope would only appear as one "radius" of light, and not a complete circle around Princess' head. The f/13 assured me of an in focus capture, and also assisted in killing any unwanted ambient light creeping in from the open door behind me. As I mentioned, the three of us were crammed into a very small closet. To claify what is happening in this image, we have a "long" exposure going on, as Elizabeth frantically spinning that light rope behind princess. The long exposure allows the rope effect to take life, and the strobe on Princess freezes her for the most part. In other captures, her slight movement was revealed by a black halo around her head, and you can see the light that crept over her right shoulder. I could have removed it in Photoshop, but I like the imperfect nature of the effect.
Following some improvisational dance (which I may write about later), it was a wrap. I had a great time, and had accomplished what I had on my mental checklist of shots. This shoot had been a long time in the making, and I am so glad it finally came to fruition. Princess was the model subject, and Elizabeth was the ideal choreographer/light twirler. I could have not have hoped for a better experience, and I now have an even greater appreciation for dancers and what they put themselves through. I look forward to next one.
If you are not already familiar with my work, please visit my site at www.slangerphotography.com. Thank you.