A few weekends ago, I was asked to photograph a young couple's wedding in the hills of Malibu. Ryan and Joella had selected Malibu and Vine as their venue. After slogging through the PCH traffic (there was a triathlon in Malibu the same day), I arrived at the golf club, already dripping sweat. After meeting briefly with the coordinator, I was off to meet the couple for the first time. They had decided to shoot a brief first-look scenario, so I photographed the groom and his droogs before heading over to photograph the bride's dress and the rings. The men were dressing in the bathroom, but I took them into the adjacent locker room for a few photographs.
After the guys were ready, we prepared for the first-look scenario. When I say "we," I mean me. I really should work with an assistant more often. In an attempt to avoid direct sunlight hitting our young couple, I positioned myself facing the back wall of the restaurant, which would be our staging area for our bride's first appearance. I had the groom "hide" behind a pillar, around the corner from our bride, Joella, who walked down a walkway into the direct sun, and I snapped a few images of her as she descended.
Just before they saw one another, I grabbed a shot of our hiding groom and the reflection of our approaching bride in the window next to Ryan.
Following a few tears, we made our way down to the golf cart station, and organized a wedding party caravan to a couple of choice spots for the family photographs. For a guy who was about to get married, Ryan was as cool as they come. It is always nice to work with people who are not always worrying about what could go wrong on their special day. For the family and wedding party images, we found a lovely hill in the shade. It was mid-afternoon, so the sun was going down at my 10 o'clock. I would typically set up a large umbrella at camera-left and feather it across our party, but I was working alone, it was hot, they were all on the hill above me, and....did I mention it was hot? I had positioned our subjects in the shade and with trees in the distance behind them for a reason. Without a bright sky burning into the image, I was free to open up to a 5 or 3.5 (for my fellow shooters out there), making the background go nice and soft. Knowing that I would be shooting no more than two rows deep, I knew focus would not be an issue at 200 mm. After getting all the required images, I suggested a classic jumping shot and/or a rolling down the hill shot. Everyone uncomfortably stared and laughed at one another like I was crazy. I get that a lot.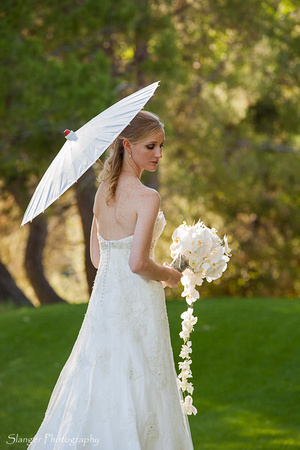 We sent everyone away, and Joella, Ryan and I moved on to another location. Ryan suggested some images of the two of them sitting under a tree, kissing and nuzzling. Of course they looked great together, but I did not care for the dappled light. As everyone kept warning me, Ryan has a nice bronze color to him, while Joella is very fare skinned. They didn't scare me. It's just a matter of positioning the subjects or the light source, and exposing for her light skin. I could always bring back some shadow detail in the underexposed skin in post. Before we left our final location, I suggested we have Joella dangle her feet into a sand trap on the golf course. After delicately carrying his bride-to-be to the edge of the sand trap, Ryan stepped out as I grabbed a few images of Joella looking forlorn. I converted one to black and white, and I must say, it is one of my favorites of the day. I really like the dissembling bouquet on the grass.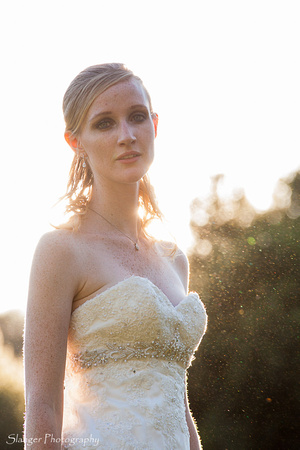 After delaying the ceremony long enough, we made our way back, and prepared for the big event. With the sun now behind the hills, I was free to once again shoot at a 2.8, and not worry about the background blowing out.
Following the ceremony, I only had one more scenario I wanted to make sure I had in the bag. The sun had just dipped behind the hills, so I rudely grabbed our now married couple, and promised them I would only need them for two minutes. I probably exaggerated (lied) about the time involved, but they were great sports all day long. I set up an Alien Bee on a stand (again, this is for the photogs out there), bare-bulbed it, and exposed for the purplish sky. I think I took 5 exposures, then released my victims (subjects).
It was a beautiful ceremony, and a true pleasure documenting Joella's and Ryan's special day. One is always fortunate when the clients are interested creaively in the process, and are also willing to have a little fun. My best to them both.
Oh, did I mention the donuts?